Are you in need of a chiropractor San Diego? If you are, then don't waste too much time searching for one because the list can go on. Here is a very accurate list that can help you find the best chiropractor for you: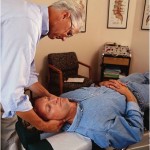 Good Vibrations
They offer Chiropractic care and Sports chiropractic.
Dr. Joe and Stacey Merlo, D.C
4060 Adams Avenue San Diego, CA 92116
(619) 281-1234
Chiropractique Urban Retreat
They offer chiropractic, massage, and acupuncture.
2301 El Cajon Boulevard, San Diego, California 92104
(619) 269-9909
Elite Performance Institute
444 W. 'C' Street, Suite 190 San Diego, CA 92101
(619) 232-4030
San Diego Chiropractic
Spence Chiropractic Center
They offer services for Auto Accidents, Work and Sports Injuries, Disc Injuries, Sciatica and Carpal Tunnel Syndrome.
8555 Station Village Ln., Suite B. San Diego, CA 92108
(619) 284-3883
Garrett Downtown Chiropractic
They offer services like Massage Therapy, Auto Accident Injuries and Carpal Tunnel.
701 B Street, Suite 515 San Diego, CA 92101
(619)-795-2619
Active health and Performance Center
3633 Camino Del Rio South, Suite 205 San Diego, CA 92108
(619) 281-7800
Total care Chiropractic
They offer Spinal Adjustment, Spinal Decompression, Neck Pain Treatment, Back Pain Relief, Arthritis Relief, Foot Pain Treatment, Hip Pain Treatment, Shoulder Pain Treatment, Carpal Tunnel Relief, Massage and Acupuncture.
Convoy Village Chiropractic
4344 Convoy Street, Suite K, San Diego, CA 92111
(858) 201-6238
Better Life Chiropractic
6753 El cajon Blvd, San Diego, CA 92115
(619) 584-484
Active Posture Chiropractic
6904 Miramar Road Suite 214 San Diego, CA 92121
(858) 564-7081
Gaslamp Chiropractic
302 Island Ave. Suite #103 San Diego CA, 92101
(619) 321-0093