The holiday season is once again fast approaching. Because of that, there are bound to be a lot of Christmas parties that will take place. Now women should have their Christmas party dresses ready! What are the top five Christmas party dresses today?
The hip accent on a very form-fitting, sleek, strapless, little black dress is eye-catching and a great option for you. Don't forget a wide red belt to accentuate that dress and for you to really look like the part of someone celebrating the Christmas season.
Layers are 'in' as well. Short, stacked layers in one color hug the body in a sexy strapless cocktail dress. Stylish layers that kick out from the bottom of the dress give this Christmas party dress a fun and flirty feel. It's perfect for the holiday party circuit!
Sparkles and sequins are here to steal the day! Go for fully-sequined short dresses v-neck lines and straps are best in cool, understated colors where you can rock a smoky eyeshadow look. The black accents are a bold and sexy party look that will stand out.
Coset black that laces up. Pair it with a bubble skirt or layered tulle skirt that poufs. This detail works well on a strapless dress. It is very youthful and screams 'life of the party'.
Empire waist, sweetheart neckline floating dresses are anything but innocent in a bright colored sheer fabric with contrasting racer back detail. Finish this look with sparkles, and you 've got a holiday party dress that shines!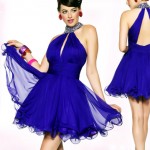 There you have it, some ideas for your Christmas party dresses! You might want to get every piece since it is most likely that you get invited to five or more parties this season. You will surely love these cute party dresses! Enjoy the Christmas season and rock it with these lovely and beautiful Christmas party dresses ideas. You will definitely be singing 'tis the season to be jolly…' anytime soon once you're in those dresses. It will clearly evoke the joyful season and the beautiful you.