Aspiring physical therapists who are planning to enroll themselves in a physical therapy school must first know the physical therapist education requirements. This will make everything easier once you're there and about to take the course or program.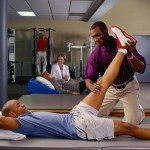 Post-baccalaureate degree from an accredited physical therapy program is included in your physical therapist education requirements. For master's degree programs, these are between two and a half years in length while most doctoral degree programs take 3 years to complete. What are the courses that you must take?
Basic Science Courses:
Anatomy
Biology
Physiology
Exercise Physiology
Biomechanics
Pathology
Pharmacology
Radiology/Imaging
Behavioral Science Course Requirements:
Evidence Based Practice
Clinical Reasoning
Clinically-Based Courses:
Medican Screening
Examination Tests and Measures
Diagnostic Process
Therapeutic Interventions
Outcomes Assessment
Practice Management
You will also be required to participate in supervised clinical training.
Today, there is a trend in the Physical Therapist education requirements that has been in motion for the past 11 years. Students who are choosing this career path need to graduate with nothing less than a Doctor of Physical Therapy if they wish to compete for a job in the physical therapist arena.
Now, before you enter a physical therapy doctorate program, there are some physical therapist education requirements that you should know. Usually, you are required to have completed undergraduate courses in anatomy, chemistry, biology, math, social science statistics, and physics. A lot of programs require applicants to have previous work experience in field of physical therapy. This can be in the form of volunteer work or internships in more than one type of work environment.
There are some practical physical therapist education requirements as well. You need to be able to communicate well and you possess a good interpersonal skills. This will be very beneficial when you are educating patients and their families about conditions and physical therapy routines that will need to be explained. You should also have the compassion and a general interest in helping your patients.
Lastly, it is also expected that physical therapists should continue their education and professional development by taking courses, attending workshops, or becoming board certified. While this isn't mandated, currently employed PT's who do not have a Doctorate should consider working towards a goal of earning their DPT since it will be more and more common for newcomers to the field to graduate as DPT.
There are a lot of schools for physical therapy that one can choose from. The requirements discussed here are mandatory and will be presented when you are applying for a job.