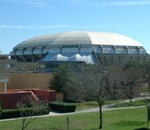 Aspiring physical therapists in Florida need not worry when it comes to finding a good school. This is because there are a lot of physical therapy schools in Florida that they can choose from. Since there are a lot of schools, they have the chance to find the best one because they are presented with a lot of options. However, the number one rule in picking a school for physical therapy is to find one that is accredited. So, here's a list of physical therapy schools in Florida that are accredited:
Florida Agricultural and Mechanical University
334 Palmer Ave, Lewis-Beck Building Suite 306 Tallahassee, Florida 32307
(850) 599-3818
DPT
Florida Gulf Coast University
10501 FGCU Blvd, S., Fort Myers, FL 33965-6565
(239) 590-7530
DPT
Florida International University
11200 SW 8th Street HLS 348, Miami, FL 33199
(305) 348-6640 / (305) 358-3647
DPT
Nova Southeastern University
3301 College Avenue, Fort Lauderdale-Davie, Florida 33314-7796
(800) 541-6682, ext. 21101
DPT, tDPT, HE-DPT, Ph.D., PT
University of Central Florida
P.O. Box 162205, 4000 Central Florida Blvd. HPA II – 118/119. Orlando, FL 32816-2205
(407) 882-0094
DPT
University of Florida
PO Box 100154, UFHSC, Gainesville FL 32610-0154
(352) 273-6085
DPT
University of Miami
5915 Ponce de Leon Blvd., 5th Floor, Coral Gables, FL 33146-2435
(305) 284-453
DPT, PhD PT
University of North Florida
1 UNF Drive, Jacksonville, FL 32224-7699
(904) 620-2841
DPT
University of South Florida
12901 North Bruce B. Downs Blvd.. MDC 077, Tampa, FL 33612-4766
(813) 974-8870
DPT, tDPT
University of St. Augustine for Health Sciences
1 University Boulevard, St. Augustine, FL 32086-5783
(904) 826-0084
DPT
Hopefully, this list of physical therapy schools in Florida will help you find the best school for you. These schools are accredited which is a great thing.