Finding short party dresses today is not an obstacle. It's pretty easy because a lot of women are more experimental and more modern nowadays. This is because of the wonderful designs that our fashion designers are creating with their creative hands and minds.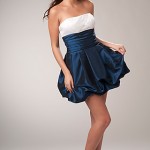 Short party dresses can make anyone look sexy. If you are invited to a cocktail party or a semi-formal event, a short party dress will do. In fact, it will make you look amazing and more trendy! Now, where do you go to find the best short party dresses that are budget-friendly?
Rue 21
Rue 21 is an online store and a physical establishment. Their quirky clothing retailers carry everything from jeans to flip flops. Since you are looking for short party dresses, Rue 21 is popular for making some of the most eclectic designs at reasonable prices. If you visit their online store, a wide selection awaits. You will definitely love the prices of these dresses because they are very affordable. You might even be able to buy a couple of dresses. Remember, one can't have too many dresses!
Forever 21
Who doesn't know Forever 21? Just like Rue 21, they have have online and physical locations. What sets them apart is that you are more likely to find good sale prices if you go into their physical establishment. There are hundreds of designs for short party dresses that you can choose from, and you will surely enjoy the whole shopping experience.
H&M
This Sweden based company has a lot of outlets all around the world. Their online store does not carry as many looks as their physical establishments. However, their short party dresses are very chic and sexy. The dresses are also closer to Versace or Dolce and Gabbana than other retailers. In fact, the company has had a few collaborations with famous designers in the past, and these collaborations made them even more famous. Don't get intimidated by that fact because they do have a lot of affordable dresses that you can choose from.
These are some of the best places to find short party dresses. They are very affordable too. You don't need to splurge on a lot of money just to have some cute party dresses to wear on a couple of parties that you want to go to.